The adventure of the Lebanese Rocket Society began, in the early sixties, at the Armenian Haigazian University of Beirut where a group of students, led by a professor of mathematics, Manoug Manougian, launched with success the first rocket of the region. Between 1960 and 1967, more than ten rockets, bearing the name Cedar, were designed, produced and launched, becoming more and more performing and rising to more than 600 km as time went by. This project, which aimed at "designing and launching rockets for space study and exploration" was greatly popular at the time and made the front pages of the newspapers. In 1964, a series of stamps reproducing the Cedar IV rocket was issued.
The space project was brutally interrupted after the 1967 war between Israel and the Arab armies, and its story was totally forgotten. The documents, photos and especially the films concerning the project practically disappeared from Lebanon, and mainly from our 'imaginary'.
The project to date includes a documentary feature film, The Lebanese Rocket Society, the strange tale of the Lebanese space race, and a series of art installations which recall this forgotten space adventure avoiding the temptation of nostalgia and trying, through performative ways, to reactivate it in present times.
The project explores the dominant representations and the one we have of ourselves questioning the great historic events and the mythologies of those years: Pan-Arabism and its transformations after the defeat of 1967, as well as the cold war, the space conquest, the great revolutionary ideas and the yearning for science, modernity and contemporaneousness.
As part of the Kamel Lazaar Foundation development projects, we will begin research the book component to this project, which will be the last part of The Lebanese Rocket Society project and will include a series of conversations with historians, philosophers, anthropologists, artists, critics. In total, the book will examine not only with the film and the art projects but also with historical, political and aesthetic issues in exploring the 60's, the present but also science fiction, anticipation  and our relation to future.
Timeline for development of Project: Research on the book to begin in September 2013.
About the artist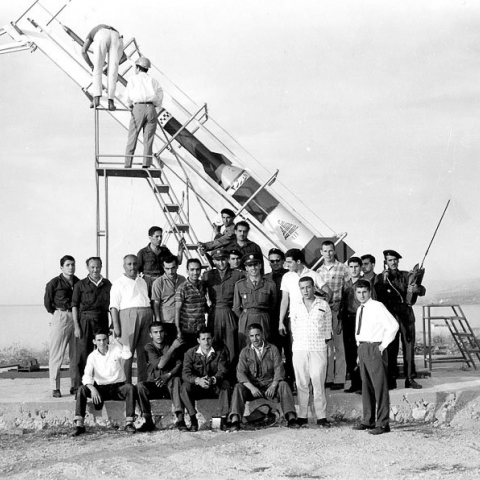 Joana Hadjithomas and Khalil Joreige collaborate as filmmakers and artists, producing cinematic and visual artworks that intertwine. They have exhibited their work internationally, and are based in Beirut.