For my new film, I will be working with novelist and journalist Robert Maharaj and using an exquisite corpse technique to build the narrative. Using two central references as initial signposts in the process, the aim is to expand on my collaborative filmmaking processes by placing collaboration and open structure at the centre of the film's working method.
Alain Robbe-Grillet's novel Djinn (1982), one of the central references, resembles a detective fiction novel. The police search the home of the narrator, who is supposed to be Simon Lecoeur, and find the manuscript lying on the desk. The manuscript is named Le Rendez-vous, which differs from the name of the novel. Djinn tells the story of Simon Lecoeur, a thirty-year-old man, who allies himself with an American woman named Jean (Djinn) to act as a counteragent to technology. Djinn/Jean seems to lead Simon on a wild chase through Paris, but all is not as it appears. Robbe-Grillet wrote his novel in response to self-imposed limits where the distinction between fact and fiction is deliberately blurred. In a convergence of author and narrator characters, with Djinn it's hard to tell whether we are dealing with a mannequin or a real person, but ultimately neither perception is true.
The other key reference: Chris Marker's Level Five features a sole female lead in a discussion of the creation of a video game based on the Battle of Okinawa. The Battle of Okinawa, with its tragic history of mass suicide is a particularly haunting episode in history. Similarly Shezad's film proposes a single female protagonist (and actor) who variously plays the first female Emperor of China: Wu Zetian, a time-travelling visitor to the city and a virtual avatar, as a way of negotiating the shifting sands of time and geography and the successive waves of fictionalisation that accrete around a specific place. The specific history in this case, being that of the controversial figure of Wu Zetian, who rose from concubine to Emperor, through allegedly sacrificing her baby daughter and blaming the existing Empress and later waging war on her own sons. While also being an early champion of Buddhism, poetry and promoting women to positions of rank and power.
The resulting film will be approximately 30 minutes long, shot on location in Xi'an and in London. Xi'an while being the early imperial capital (Chang'an) of the first four dynasties is also a contemporary IT hub, with a particular emphasis on gaming. These various aspects will be worn into a one-woman monologue exploring concepts of death and rebirth and how traditional Buddhist doctrines might be re-imagined in our digital future. Notions of time-travel, realpolitik and the mediated and conflicting histories of power and gender that carry on into the present-day will also be addressed. The film will make use of notional iconic images, overlays, studio sets, digital avatars and use of still frames, and push the deconstruction of format and digital artifice to a degree the artist hasn't done before, particularly through the use of digital avatars, studio sets and green-screen to question the notion of the real, in relation to the constructed image. The first part of the film will be shot on location in Xi'an, with a collaboration with OCAT Xi'an and the local Xi'an Fine Arts Academy (XAFA) film department to provide crew and assistance for a series of digital backgrounds, encompassing sites from the mausoleum of Emperor Wu Zetian, to the shopping mall with the largest LCD screen in Asia, as well as the new OCAT contemporary art museum itself. I also intend to carry on the process of exquisite corpse by exchanging correspondence and fragments of the evolving story with Robert while in my hotel room in Xi'an. The idea being that the story is formed between the shoot in Xi'an and the shoot in London. This is envisaged as a 2-3 day shoot in a studio in London, that would allow for the construction of sets and green-screen. I am looking to work with actress Jennifer Lim, with whom I have already worked on Piercing Brightness, so it would allow us to build on our working relationship in this more experimental, and multi-layered way.
This use of technology and collaboration as a way to bridge past and future ideas of virtuality and time travel would mark a step forward in the technical and philosophical range of my practice. It is also intended through the development process to experiment with what script can be (building on my experiments with the form of the script as artist's research tool, see: http://www.e-flux.com/journal/towards-the-possible-film-a-script-with-some-notable-interruptions/ ), as well as to research avatar creation and specific use of green-screen in relation to this.
About the artist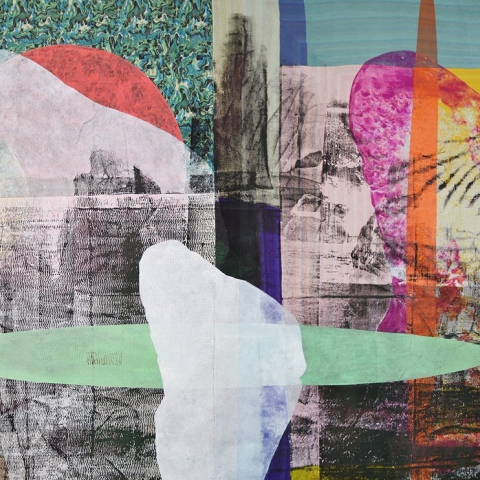 Shezad Dawood works across film, painting and sculpture to juxtapose discrete systems of image, language, site and multiple narratives, using the editing process as a method to explore meanings and forms between film and painting. His practice often involves collaboration, working with groups and individuals across different territories to physically and conceptually map far-reaching lines of enquiry. These networks chart different geographic locations and communities and are particularly concerned with acts of translation and re- staging. For example, his collaborative film project, Feature (2008), relocated the action of a traditional western to the English countryside, merging other sub- genres such as the zombie-flick, South Asian god-flick, and Wagnerian opera (featuring cameos by artists Jimmie Durham and David Medalla). A more recent video work, Towards the Possible Film (2014) - shot on location in Sidi Ifni, Morocco - explores anthropological concepts of indigenousness through the genre of science fiction.
Dawood's work has been exhibited internationally, including the Museum of Modern Art, New York (2015); Taipei Biennial, Taiwan (2014); Marrakech Biennial, Morocco (2014); MACBA, Barcelona (2014); Witte de With, Centre for Contemporary Art, Rotterdam (2013); Modern Art Oxford (2012); Busan Biennale, South Korea (2010); Tate Britain, London (2009); and the 53rd Venice Biennale, Italy (2009). Most recently, Dawood has held solo exhibitions at Pioneer Works, Brooklyn, New York (2015); Parasol Unit, London (2014); and OCAT Xi'an, China (2014). His feature film Piercing Brightness (2013) was exhibited widely at international festivals, is distributed by Soda Pictures on Blu-ray/DVD and iTunes, and was screened at the Museum of Modern Art, New York.
Dawood is a Jarman Award nominee (2012), and one of the winners of the Abraaj Capital Art Prize (2011).
Shezad Dawood was born in London in 1974 and trained at Central St Martin's and the Royal College of Art before undertaking a PhD at Leeds Metropolitan University. Dawood is a Research Fellow in Experimental Media at the University of Westminster. He lives and works in London.