The project found its final shape in a series of clocks to which I added the random computer program previously used. The program imitates the regular rhythm of time measurement. I chose antique clocks dating from the fifties. Indeed, this decade has seen the end of mechanical watchmaking in favor of the quartz clocks, which are extremely more precise. It was also during these years that the first cesium atomic clock was commissioned. The oscillation of the cesium atom constitutes until today, the standard for the measurement of time. For the time being, I have created four clocks on the same model.
About the artist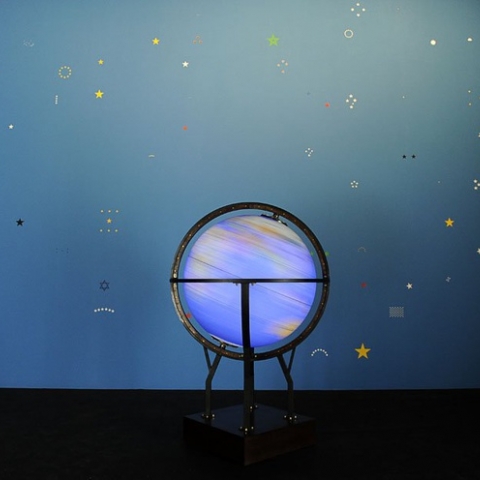 Fayçal Baghriche was born in 1972 in Skikda, Algeria and now lives and works in Paris, France. He obtained a national diploma of fine arts from La Villa Arson in Nice, France in 1991, followed by a BA in Dramatic Arts at Nice Sophia Antipolis University, France in 1998. In 2001, he completed a Master's degree in multimedia creation at The National School of Fine Arts in Paris, France. Baghriche was instrumental in establishing an artist residency in Paris at La Villa du Lavoir and is a founding member of curatorial structure Le Commissariat.
In the past 10 years, he has exhibited widely both in France and abroad, including Brooklyn Euphoria, New York; Dashanzi Art Festival, Beijing; La force de l'Art 2009 and La Nuit Blanche, Paris; and Le Printemps de Septembre, Toulouse. In 2011, he participated in the 54th Venice Biennial as part of the first pan-Arab pavilion, The Future of a Promise. In recent years, his work has been shown as part of the biennale of Gwanju as well as in art centres such as Contemporary Art Museum Huston, Outpost for Contemporary Art, Los Angeles, Bielefelder Kunstverein, Germany, Al Riwaq Art Space, Bahrain, The Museum of Modern Art in Algiers and the Dakar Biennale in 2014.