Call for projects Kamel Lazaar Foundation (KLF) 2022
In continuation of the "Culture Solidaire" program KLF, launches its new call for projects in two sections: A call for artists from all disciplines, from and/or residents in the Arab world and/or the Mediterranean, willing to work in relation with Tunisia. A second call for researchers, curators, and writers willing to develop research, critical thinking and/or curatorial work in Tunisia

Call for projects for artists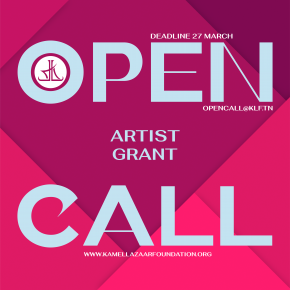 An endowment of 3000 to 10000 USD (8000 to 28000 TND) will be granted for the selected projects.  Grants will be awarded according to the nature of the project by a selection committee. 
Goals of the call
This call aims to encourage creation and dissemination in the arts sector to promote the most current artistic approaches in the Arab world and the Mediterranean. 
Projects may be submitted by artists, artists' collectives, or non for profit organisations.   
Projects may be shared with the Tunisian public, in a format such as an exhibition or performance, at the B7L9 Art Station in Tunis.  
Eligible fields
All artistic fields. 
Terms of participation
Artists from and/or residents in the Arab region and/or the broader Mediterranean willing to develop creative art projects that reflect deep and critical thinking on current issues and concerns.  
Duration
Projects submitted must be developed within a period of 6 to 12 months. These deadlines may be extended if complex work is suggested. 
Application process
The application should be submitted online and should include: 
A detailed CV, with examples of previous work

 

A letter of intent

 

The completed application form

 
Applications may be submitted in Arabic, English, or French through the following link
Grant Contract
A grant contract will be signed with the selected artists setting out the terms and conditions of their commitment to KLF. 
Selection process and committee
An independent jury will be selecting the most relevant themes and topics according to the criteria set by KLF that can be achieved within the given time frame.  
Applicants may be invited to an interview with members of the Jury. 
Deadline for applications: Sunday 17 Avril 2022.
Announcement of results: Friday 17 May 2022.
---
Call for proposals for researchers and curators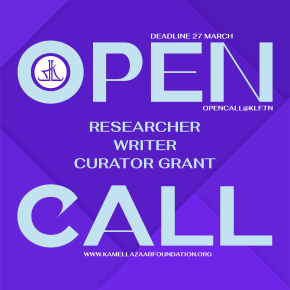 An endowment of 1000 to 5000 USD (3000 to 15000 TND) will be granted according to the nature of the selected projects.  
Goals of the call
Supporting writers, intellectuals, researchers, and curators in questioning and rethinking artistic creation, and in imagining projects that are relevant and that reflect current approaches in critical thought. The selected candidates will be asked to share their work in the form of publications, exhibitions, and conferences/symposia. 
Eligible candidates
Researchers, curators, writers, and thinkers wishing to develop research, critical thinking and/or curatorial work in Tunisia. 
Duration
Projects submitted should be able to be realized and presented within 6 to 18 months.  
Application process
The application should be submitted online and should include: 
A detailed CV, with examples of previous work

 

A letter of intent

 

The completed application form

 
Applications may be submitted in Arabic, English, or French through the following link
Selection process and committee
An independent jury will select the most relevant projects in line with the criteria set out by KLF, that may be implemented within the set deadline. 
Applicants may be invited for an interview with the jury members. 
Deadline for applications: Sunday 17 April 2022.
Announcement of results: Friday 17 May 2022
The jury members
Ala Younis
Ala Younis is an artist, with curatorial, film and publishing projects. Using objects, film and printed matter, She holds a BSc. in Architecture from University of Jordan and MRes in Visual Cultures from Goldsmiths, University of London. She is a recipient of the Bellagio Creative Arts Fellowship, as well as two art prizes from Cairo Youth Salon (2005) and Jordanian Artists Association (2005). Her work was presented in solo shows in Amman, Cairo, Dubai, London, New York, Prague, Sharjah, and Seville, and in the Istanbul, Venice, Gwangju, Ural, and Orléans biennials. Younis curated Kuwait's first Pavilion at the Venice Biennale (2013), "Museum of Manufactured Response to Absence" (2012–2014), and "Out of Place" at Tate Modern and Darat al Funun (2011). She also co-curated "How to find meaning in dead time" (2021) at SAVVY Contemporary in Berlin in the context of the Archival Assembly #1 organized by Arsenal – Film and Video Art Institute.  She is co-head of Berlinale's Forum Expanded, member of  the Academy of Arts of the World (Cologne), and co-Artistic Director of Singapore Biennale 2022. In 2012, she co-founded Kayfa ta, a publishing initiative that issued around 20 books, and curated three major shows in Beirut, Abu Dhabi and Amman in 2019 and 2020 on independent publishing efforts. Kayfa ta is part of documenta fifteen lumbung of publishers. Younis is currently a Research Scholar at al Mawrid Arab Center for the Study of Art at New York University Abu Dhabi.
Stephanie Bailey
Stephanie Bailey is Ocula Editor-in-Chief, a contributing editor to ART PAPERS, and the current curator of the Conversations at Art Basel Hong Kong. A member of the Naked Punch editorial committee, and an editor for the online magazine published by M+ in Hong Kong, she also writes for Art Monthly, Yishu Journal of Contemporary Chinese Art, and D'ivan, A Journal of Accounts. From 2012 to 2017, she was managing editor and senior editor of Ibraaz.
Born in Hong Kong and essentially made in Greece, where she directed and managed a BTEC-accredited Foundation Diploma in Art and Design at Doukas from 2009 to 2012, her interests include the articulations of history and the relations of power coded into the production and exchange of culture. Essays have appeared in Navigating the Planetary (eds. Hildegund Amanshauser and Kimberly Bradley, VfmK, 2020); Future Imperfect: Contemporary Art Practices and Cultural Institutions in the Middle East (ed. Anthony Downey, Sternberg Press, 2016);  The future is already here — it's just not evenly distributed, 20th Biennale of Sydney catalogue (ed. Stephanie Rosenthal, 2016); Armenity, the catalogue for the Armenian Pavilion at the 56th Venice Biennale (ed. Adelina von Furstenburg, Skira, 2015); Happy Hypocrite #8: FRESH HELL (ed. Sophia Al-Maria, Book Works, 2015); Hybridize or Disappear (ed. Joao Laia, Mousse Publishing, 2015); and You Are Here: Art After the Internet (ed. Omar Kholeif, Space/Cornerhouse, 2014).
Editorial projects include: 'Gaming the System', Artpapers Spring 2022 issue co-edited with Sarah Higgins; Children of Empire', LEAP 37 (February 2016), with contributions from, among others, Walter D. Mignolo and Uzma Rizvi; 'Geopolitics on the Edge', a dossier for Art Papers 40:06 (November/December 2016); 'Non-Aligned Movements', LEAP 45 (June 2017), with contributions from, among others, Mi You and Vijay Prashad.
Rachida Triki
Rachida Triki is a professor at the University of Tunis, specializing in aesthetics and the philosophy of art. Art critic and curator, she has organized several international meetings on contemporary problems of creation and published several books. She was a founding member and president of the Tunisian Association of Aesthetics and Poetics, a founding member of the Mediterranean Association of Aesthetics, vice-president of the International Society of Poetics. She is currently a member of the Tunisian Academy of Letters and Arts Beit Al Hikma.
 Rasha Salah
A graduate of Social and Cultural Development from Bordeaux II in France, Rasha Salah is the curator and co-founder of Beirut contemporary art space in Lisbon. She was the Executive Director of Dar El-Nimer, an independent nonprofit art foundation based in Beirut, where she was hired in 2015 to lead its creation and to draw its strategy and vision. She has curated and designed the exhibitions and programs of the Foundation.
She also curated the Film screenings, advancing independent Arab film and facilitating Live-encounters with filmmakers. Rasha Salah curates art festivals, such as "Iraqisms" in 2019, a festival dedicated to promoting the Iraqi art scene, and most recently the Redzone festival 20/21 "inner spaces", promoting more than 30 artists from the Middle East, North Africa and the Gulf region. From 2010 to 2015, Rasha was the Grants Manager at the Arab Fund for Arts and Culture (AFAC) where she played a leading role in establishing the Fund's regional outreach on a grassroots level.
She worked in various International Organizations and gained an experience in social, artistic and cultural management in the region. Since 2020, Salah is solicited by different organisations, such as AFAC and Basits.live as facilitator and mentor in some of their programs.
Sabah Ennaïfar
Sabah Ennaïfar has been a Tunis-based member of the Kamel Lazaar Foundation since 2015, with a large focus on its art collection management and publishing department.
Sabah has also been involved in the last three editions of Jaou Tunis as well as numerous other projects such as the inception of the B7L9 Art Station and as a jury member of previous grants sessions including Solidarity Culture. Engineer and a scientific researcher by training, Sabah holds a PhD in Agronomic Sciences, with previous experience in the National Institute of Agronomic Research in Paris, as well as the educational department of the French Institute in Tunis.
Sabah has an insatiable interest and deep commitment to the arts from Tunisia, and the broader region.
Khedija Lemkacher
 Khedija Lemkecher is a Tunisian author, scriptwriter, director and producer. She started directing documentaries, fiction films, commercials and television programs. She also produced the long feature film "Bab El fella'' "The Cinemonde ". Khedija Lemkecher's latest films "The night of the blind moon" and "Bolbol'' were selected in several international film festivals like Cinemed, Diff Dubai, Filmfest Houston, Festival des Cinémas Arabes, Aflam du Sud... and are awarded. She was also a jury in several festivals like PRIMED (France), Mostra Di Valencia (Spain) and JCC (Tunisia). Now she is preparing her upcoming Two Long feature films "Four O'clock flowers » and « One eighth ».
 Salwa Mekdadi
Salwa Mikdadi is the Director and Principal Investigator of al Mawrid Arab Center for the Study of Art (NYUAD) and Professor of Practice in Art History at NYU Abu Dhabi (2013- ). Her research focuses on modern and contemporary art of the Arab world, Arab art institutions, gender politics in art, and museums and society. Past positions include Head of the Arts & Culture Program at the Emirates Foundation (2009-2012). She taught at Sorbonne-Paris Abu Dhabi in the MA History of Art and Museum Studies (2011-2014). Mikdadi was the co-founder and Director of Cultural & Visual Arts Resource/ICWA, one of the first non-profit organizations dedicated to the study and exhibition of art from the Arab world (USA 1988-2006). She curated numerous exhibitions, including the first Palestinian Exhibition for the 53rd Venice Biennial, 2009, A Century in Flux: Highlights from the Barjeel Collection- Sharjah Art Museum (co-curator 2018), and Forces of Change: Artists of the Arab World (USA 1994). She is the editor of several catalogs, books: Elias Zayat: Cities and Legends, Palestine c/o Venice (2009), Visual Reflections on Arabic Poetry, In/Visible: Arab American Artists, New Visions: Arab Contemporary Art of the 21st Century (co-editor) and wrote the reference guide on the history of twentieth-century art of West Asia, N. Africa, and Egypt for the Metropolitan Museum of Art Timeline. Mikdadi is a founding member of AMCA.
Karim Sultan
Karim Sultan has been a curator with the Kamel Lazaar Foundation since 2020, where he has curated 'Seen and Unseen' (2021) and 'Here After' (2022), both at KLF's B7L9 Art Station in Tunis, the upcoming 2022 edition of Jaou, as well as numerous other projects alongside the team. He holds a master's degree in the history of art and architecture from Birkbeck College, University of London. In addition to his curatorial work with KLF, he has also worked on exhibitions, curatorial, and research with a focus on modern and contemporary art, architecture, music, and sound. Previously, he worked in a curatorial role with the Barjeel Art Foundation on exhibitions such as 'Between two rounds of fire, the exile of the sea' (2017) at the American University Museum, Washington D.C., 'Art moderne et contemporain arabe' (2017, curated with Philippe van Cauteren) at Institut du monde Arabe, Paris, and 'The Sea Suspended' (2016) at the Tehran Museum of Contemporary Art, Tehran. Karim has also presented performances of music and audiovisual works internationally. He is currently based between London and Tunis.  
 Hanane Hajj Ali 
Hanane Hajj Ali is the recipient of the Order of letters and Arts from the rank of knight of the French Ministry of Culture, and an eminent cultural and artistic figure in Lebanon and the Arab World. Founding member of the collective group HAKAWATI Theatre (Lebanese Theatre of Storytellers), Hanane has performed in prestigious international theatres and festivals. Hanane's latest play Jogging has won numerous competitions and prizes including The Vertebra Prize for Best Actor at the Fringe Edinburgh Festival in 2017. In addition to her work as an actress, playwright, writer, and director since 1978, Hanane is a teacher in Theatrical studies/Master program at IESAV- Saint Joseph University, and at The Lebanese University. She published a number of researches and books on cultural management and culture policy.  Hanane is also a founder and board member of several organizations such as, Culture Resource- Al Mawred Athaqafy, Action for Hope, and Ettijahate, Independent Culture. She serves regularly as a consultant, trainer, and jury member collaborationg with many regional and international cultural organizations. As an activist, Hanane has been for decades a defender of the freedom of expression, and promotes the democratization and the democratization of education amd culture.
 Dhouha Abdelghanni
After a 13-year sports career as a basketball player and a sports career that was crowned by the title of best Tunisian player at the African championship, Dhouha Abdelghani obtained a Master's degree in Human and Social Sciences in Sport.Eclectic and involved in the underground cultural scene, she multiplies experiences and projects notably at El Teatro, Feryel Studio, but also Dream City, where she collaborates closely with many Tunisian and International artists.In December 2019, she joined the Cultural Action team of IFT (Institut Francais Tunisie) where she was in charge of programming, coordinating, and monitoring various projects in music and visual arts.Since March 2022, Douha Abdelghani is the artistic director of the music department at B7L9 where she is in charge of the annual music programming, works on the development of a rehearsal studio and performance spaces, reflects on a residency program and develops the MÄA ELMOGHREB project dedicated to the emerging music scene.
Imed Alibi
Imed Alibi is a Tunisian musician and composer. Throughout his 20 years of activity, Imed's experience spans from music performance and composition to artistic direction, cultural management and project consultancy. He worked as the artistic director of international festival of carthage (2020/2021) and Carthage Music Days in 2019, and for Sousse International Percussion Festival for 3 years. In addition to his career as a musician and composer in different projects and collaborations (Les boukakes, Emel Mathlouthi, Natasha Atlas, Rachid Taha, Justin Adams, Michel Marre, Mounir Troudi....) he has collaborated as a jury member and consultant for Visa for Music in Morocco, Babel Music XP in Marseille  ,Institut Français , Beirut and Beyond , music connect Italy,Unesco .. As an artistic advisor, he worked with Le Silo in South of France for 5 years, and recently with Candid Foundation in Germany on the Alhan Libya project and with music in Africa foundation in south.
Nadia Kaabi-Linke
Nadia Kaabi-Linke was born in Tunis in 1978. She graduated from the University of Fine Arts, Tunis, in 1999 and earned a Ph.D. at Université Paris-Sorbonne, in 2008. Growing up in Tunis, Kyiv, Dubai, and Paris, she has a personal history of migration that has greatly influenced her body of work. Her art gives physical presence to that which remains invisible, be it people, structures, or the geopolitical forces that shape them.
Using various materials and methods, Kaabi-Linke often works in dialogue with the place of production and exhibition. She has rendered visible the bodily traces of people waiting at Berlin bus shelters and subway stations, the scars of domestic violence victims in London, and paint chips scraped from city walls throughout North Africa and Europe. She realized Meinstein (2014), a permanent public artwork in Berlin that reflects processes of ethnic segregation. For her installation, "Walk the Line" (2015), volunteers wrapped two poles with thread the length of the Texas-Mexico border until it formed a dense wall. Flying Carpets (2011) gives physical shape to the immigrant merchants of Venice, who often display their wares on sheets that they can quickly sweep up upon the arrival of authorities.